We are 14 Neighbourhood Watch Districts covering the whole of Essex. We work together as Essex Neighbourhood Watch Association. We strive to reduce the opportunity for crime throughout Essex and the fear of crime to Essex residents. We are Registered Charity 1168988
Neighbourhood Watch is a national movement with nearly 2.5 million members, where people come together to make their communities safer and stronger and encourage people to look out for each other. Because Neighbourhood Watch is a national movement, we have manged to arrange insurance cover for all members who have formally registered with their local co-ordinator, when they are on Neighbourhood Watch activities. The cover is quite comprehensive. Details are in our Filing Cabinet.
Neighbourhood Watch doesn't have a command and control structure, but our volunteers do liaise with with local co-ordinators who may operate at a Street and, in turn, a Locality or District level. It is the District co-ordinators who are the key members of the NHW Association. Some District co-ordinators take on the role of liaising with National Neighbourhood Watch, too, and from the national body, we receive not only ideas and co-ordination, but valuable insurance to cover us when on Neighbourhood Watch duties. We have a volunteer Chairman, Treasurer and Event Organiser .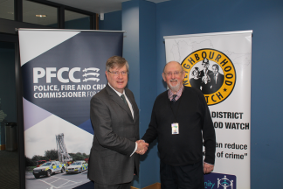 In Essex we have many local Neighbourhood Watch groups of like minded people working together to help reduce crime and its effects in their neighbourhood. These local groups work together in 14 district groups,.They, in turn work together within Essex Neighbourhood Watch Association to share ideas, purchase crime reduction products and leaflets and liaise with a wide range of organisations. These other organisations include the Police and Fire Commissioner's office, Essex Police, other members of the Community Safety Partnerships in each local authority, voluntary organisations and other people who want to make their neighbourhoods better places to live.