At every AGM and Conference, the districts each make an award in recognition of exceptional work by one of their members. Here are the citations and further photographs from the conference.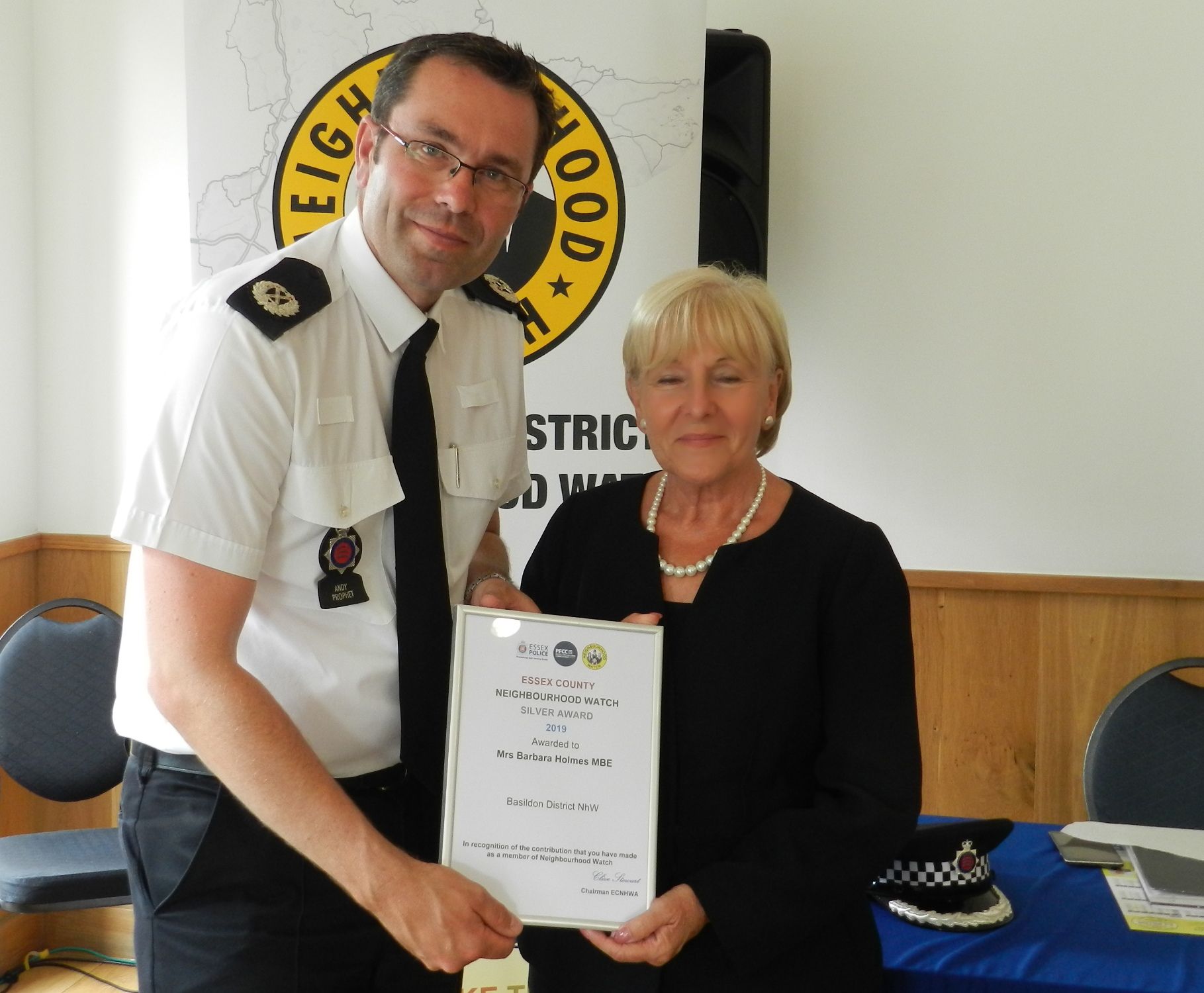 Silver Award Citation 2019
Mrs. Barbara Holmes MBE
District: Basildon
Barbara has been very active as our Nhw Co-ordinator; through attending meetings on behalf of the residents, to ensure that all members are fully informed of crime updates in the area. During a spate of burglaries last year, Barbara organised a meeting with our local Police reps, and also ensured that residents had the resources they needed to help them feel safer around their homes. Being from a Policing background, Barbara has first-hand knowledge of what it takes to protect our neighbourhood. Her award is in recognition of her years of dedicated service.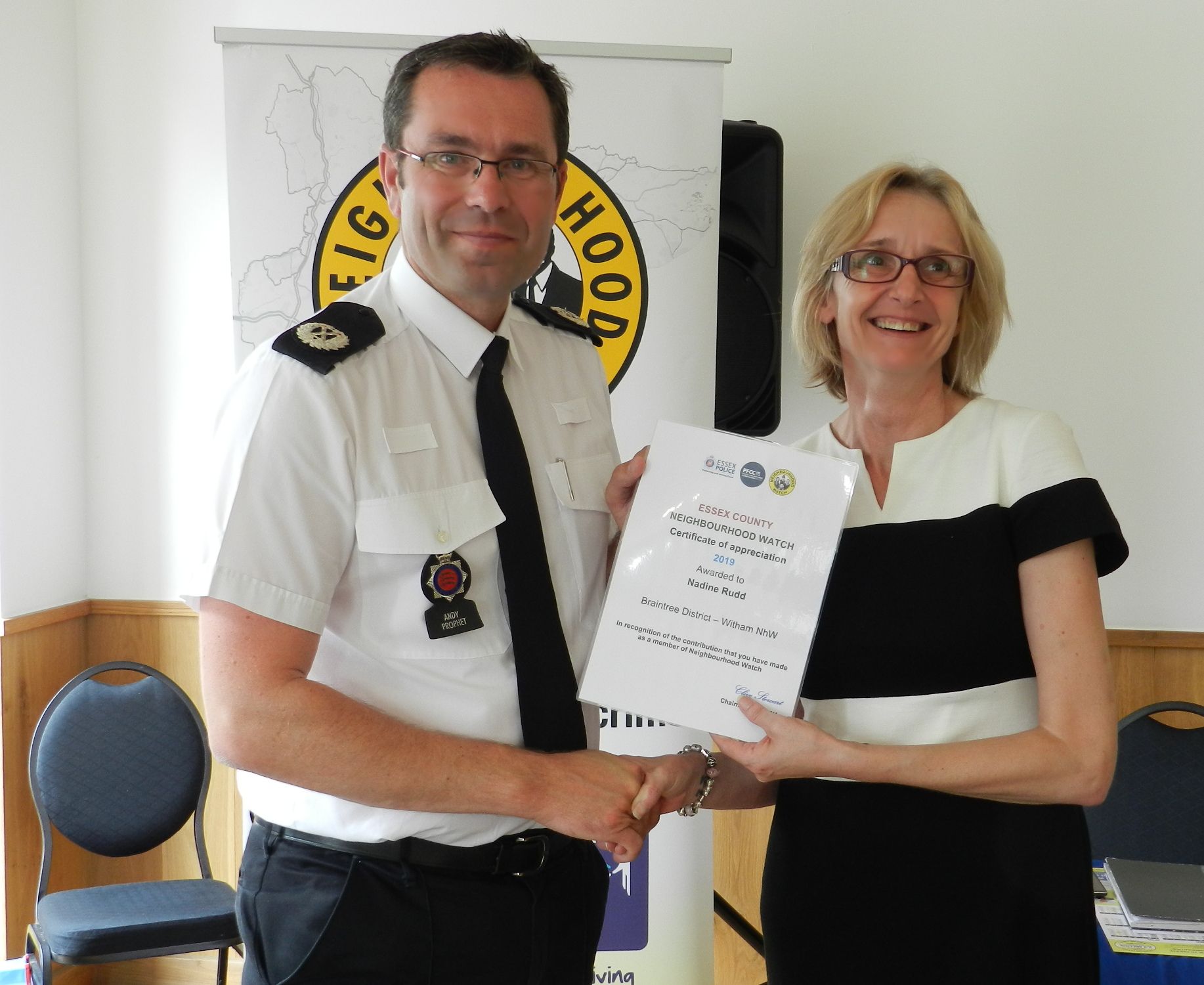 Award Citation 2019
Nadine Rudd
District: Braintree
Nadine quickly took on board the ethos of Neighbourhood Watch, taking responsibility for both her area, and accepting the role of Vice-Chair of Braintree District NhW, being a great assistance to the Chairman.
She sees NhW exactly as it is; to reduce the opportunity of crime, and ecourages anyone with concerns to contact the Police for advice and reporting crime.
Nadine is also an 'Active Citizen,' and is happy to help and to promote NhW, and to give advice on NhW matters at any time.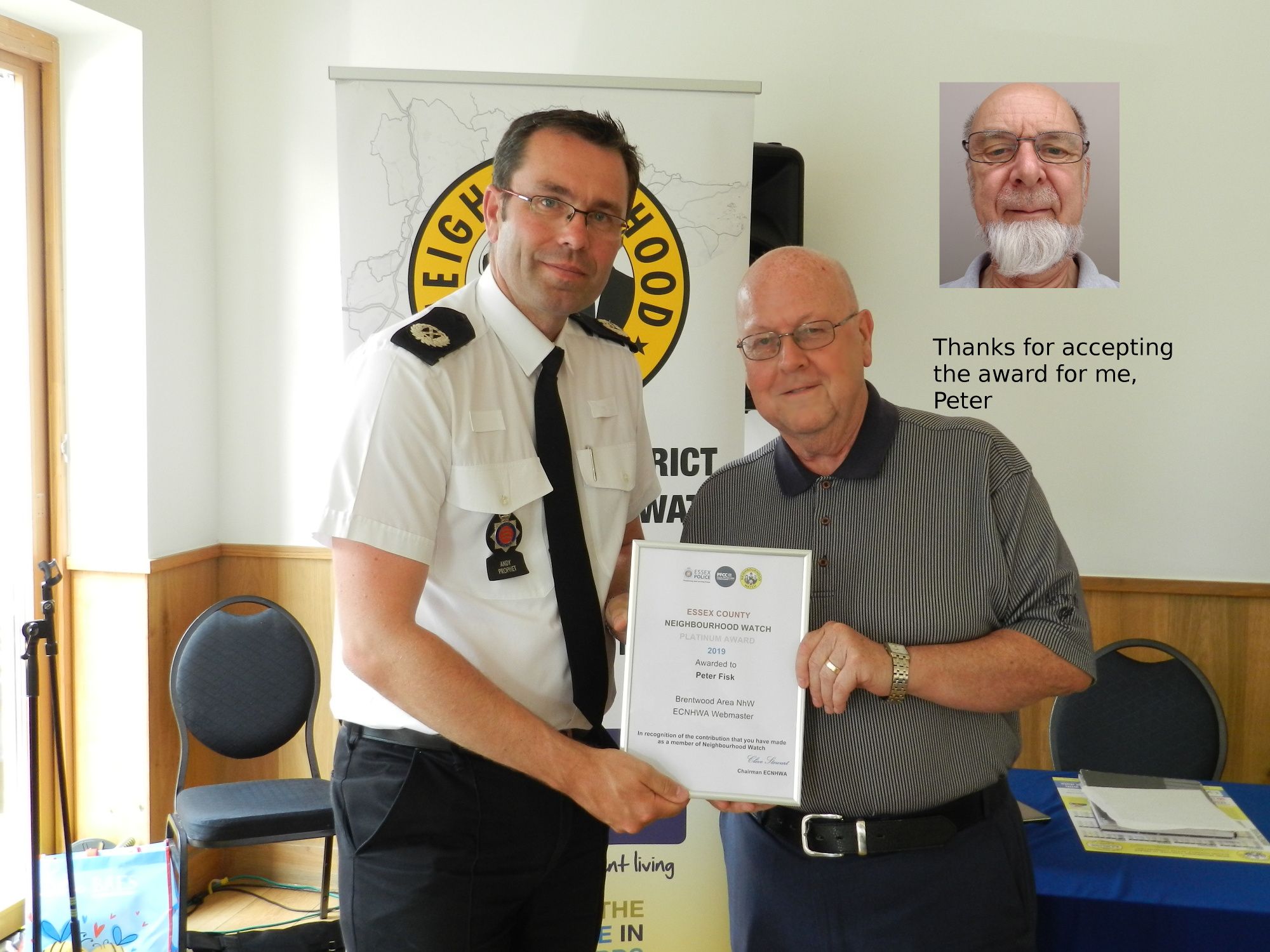 Platinum Award Citation 2019
Peter Fisk
District: Brentwood
ECNHWA Webmaster
Peter has been involved with NhW for many years, originally concentrating on his home village of Doddinghurst, where he was a committee member, eventually becoming chair of the group. There, he was a founder of Junior NhW at the local school, and, later instigated 'Be Wary' notices that now cover the whole Borough, giving advice to those who do not have access to the internet. Today he still covers his village, often being seen out leafleting, but his work has spread beyond Brentwood, right across the County as he is the County webmaster.
Silver Award Citation 2019
Ron Humphreys
District: Chelmsford
Ron joined NhW six years ago, and immediately took on the role of Membership secretary, with energy and gusto, and has been a loyal member ever since. Eighteen months ago, Ron had to ease off for a while, due to a serious illness, but, he continued to be in contact. Thankfully, Ron recovered his health and resumed his role as Membership secretary, and, in the absence of a minutes secretary, he has taken that role on too. He is a stalwart member, who has made a significant impact on the work of our district.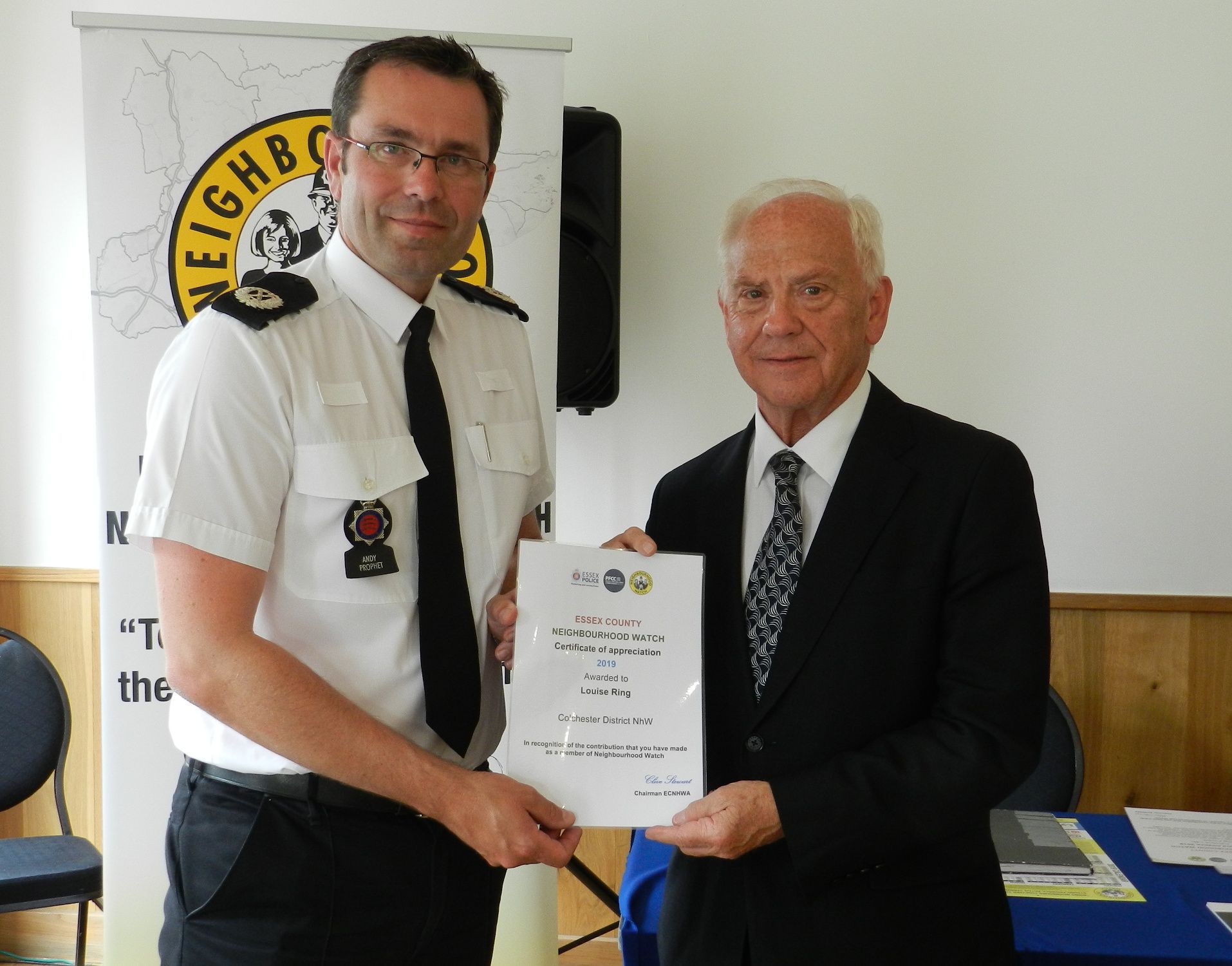 Award Citation 2019
Louise Ring
District: Colchester
Louise has, brought about a significant clean-up where drug dealing and drug taking had become rife, and residents felt unsafe, when travelling from their property. She has engaged with Police and Councillors to highlight the issues, and gathered intelligence for the Police.
Louise has raised funds for signs, as well as Planters, used to create barriers in alleyways, to prevent illegal gatherings, and initiated a study into the use of CCTV in the Town Centre.
Award Citation 2019
Caroline Law
District: Epping Forest
Caroline was a founder member and Treasurer of our District NhW committee in 2011. She has carried out both roles diligently and helped to enable the committee to expand to twentyone members, and to increase the overall membership of NhW. Caroline has now formally handed over her role as Treasurer, and resigned from the committee. Caroline has been a very valuable asset and extremely loyal member, who justly deserves her award.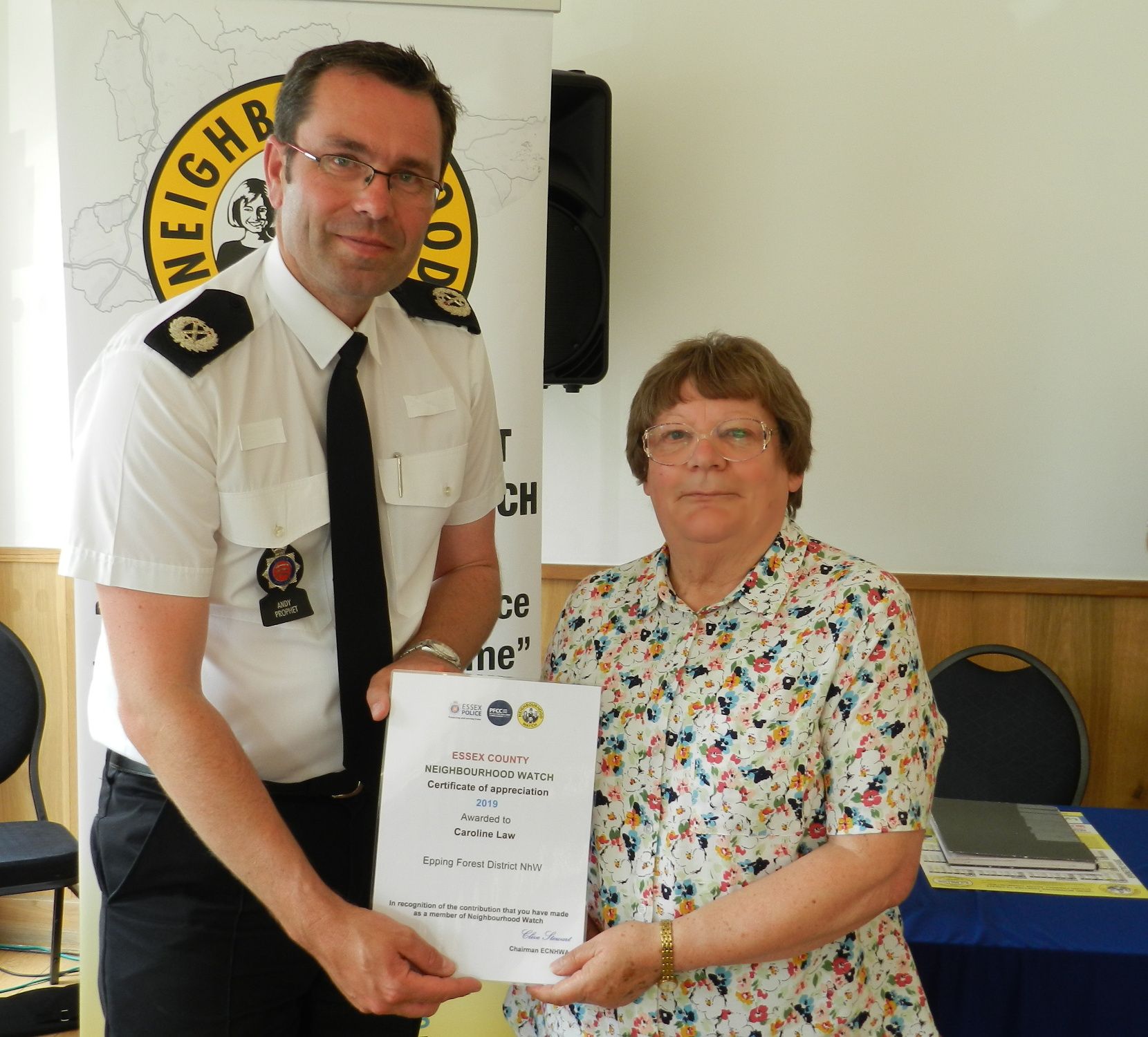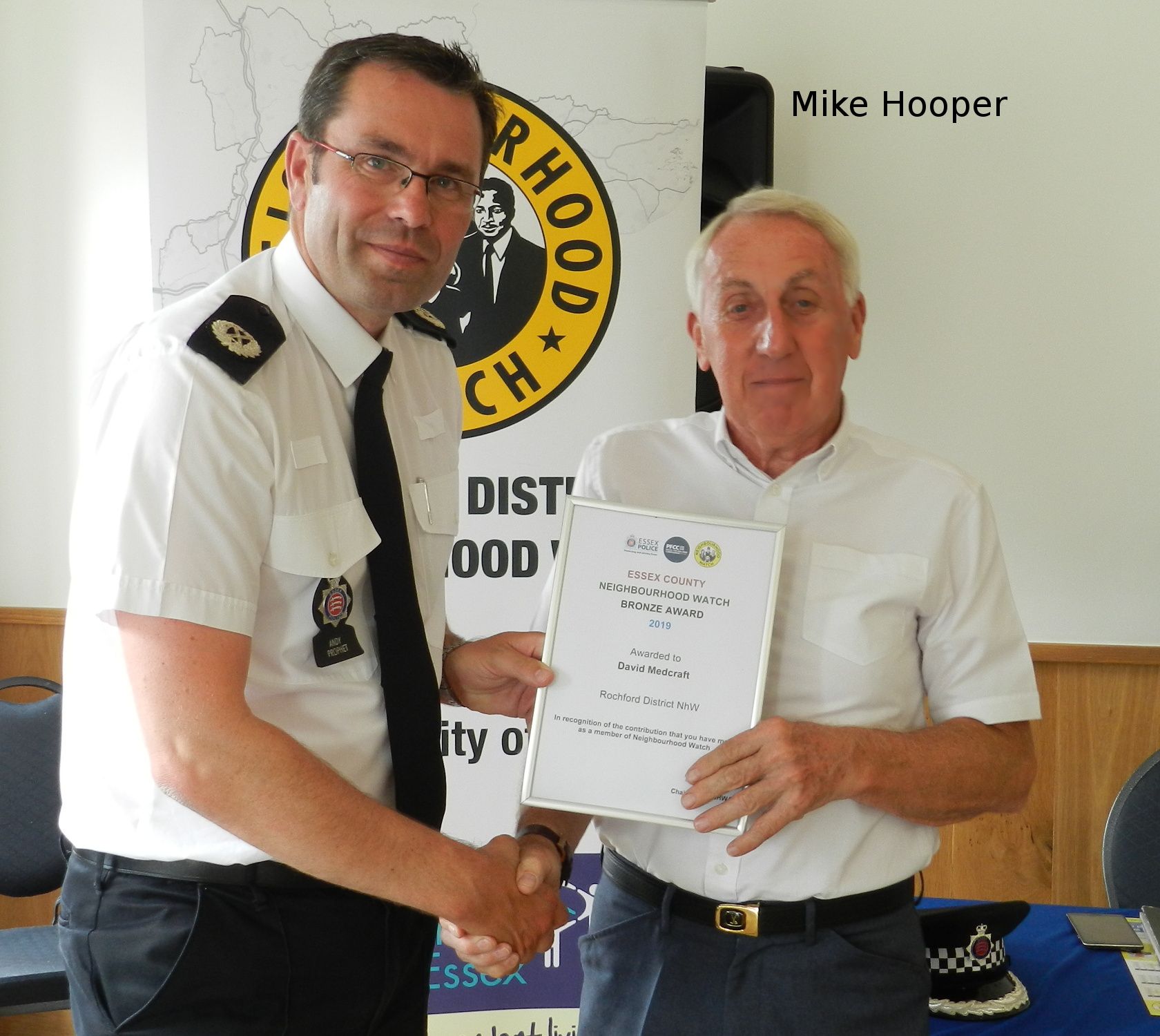 Bronze Award Citation 2019
David Medcraft
District: Rochford
David joined the admin team for Rochford District NhW in September 2015, at the age of 75, and has made a significant contribution since. He has become the 'lead,' on all computing matters and maintains an impressive database of all co-ordinators, past and present, as well as the number of newsletters delivered in the district. He often takes work home in order to speed things up, and always makes constructive suggestions to help us improve our processes.
Award Citation 2019
Carol Sinclair
District: Southend-on-Sea
Carol has been a member of the committee for at least five years.
She is an 'Active Citizen,' and is always ready to take on a task for Neighbourhood Watch.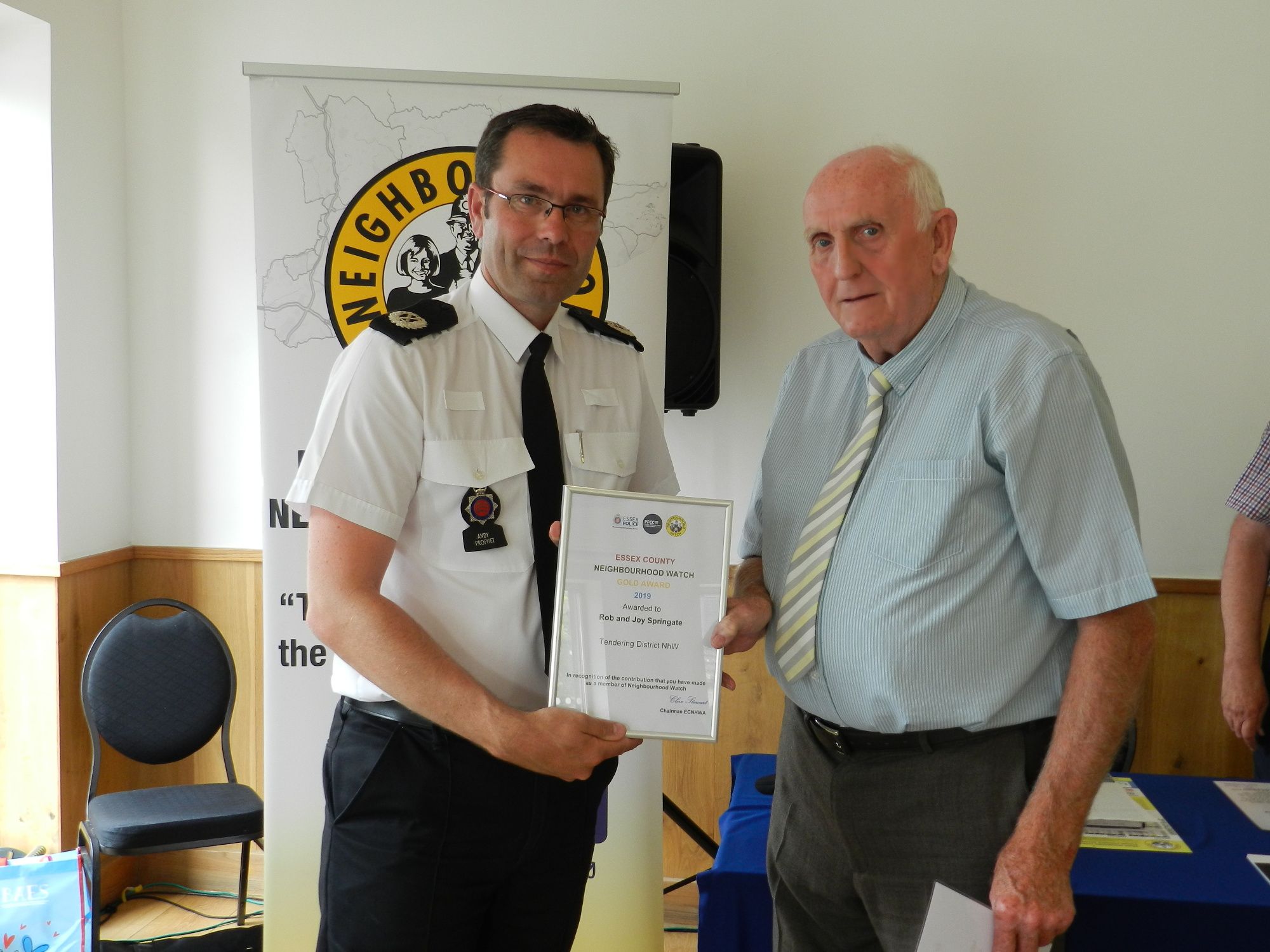 Gold Award Citation 2019
Rob and Joy Springate
District: Tendring
Rob took over as the street co-ordinator, when their co-odinator sadly passed away. Rob was then to suffer a stroke, and Joy took over the running of the street scheme for him. All during his recovery, Rob, together with Joy, attended as many of our meetings as possible. They also helped out with road closures at the Clacton Carnivals, and on the Tendring NhW stall at the Clacton Airshows. Rob and Joy are always amongst the first to volunteer when help is needed.
Award Citation 2019
Srikanth Goud Panjala
District: Thurrock
We have got to know Srikanth, for the past two years, and, he came forward to offer to volunteer for Thurrock NhW. So we signed him up as a co-ordinator, and since this time he has been knocking on doors, encouraging people to join. Meanwhile the Ward co-ordinator had to step down, and so Srikanth, was approached and took on the role of Ward co-ordinator. He has started to recruit twenty new co-ordinators, together with fivehundred members.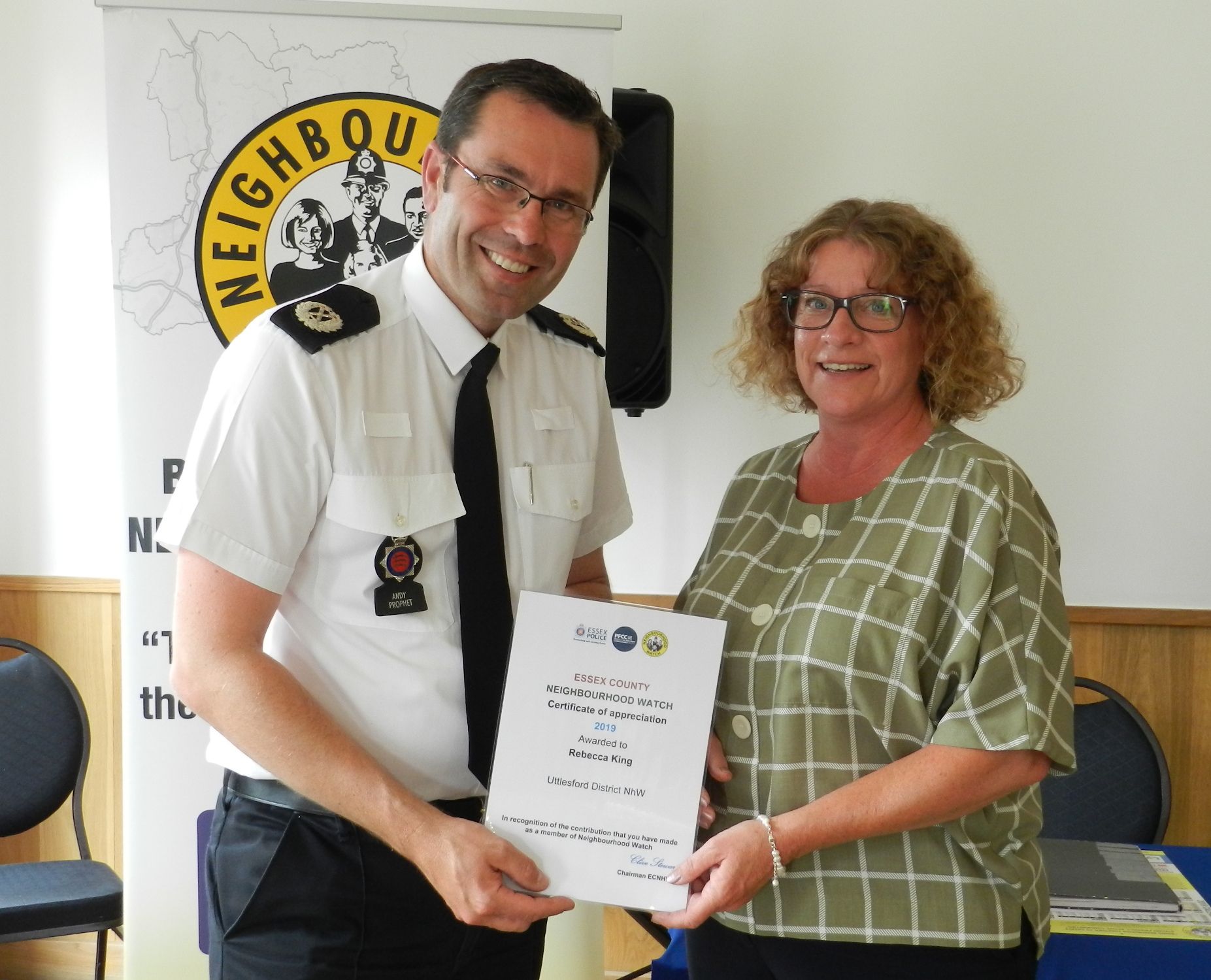 Award Citation 2019
Rebecca King
District: Uttlesford
Rebecca joined our district in 2016 as our Steering Group minute secretary, then progressed to become our secretary in 2017.
In the last two years, Rebecca has been invaluable in helping to rebuild the Uttlesford NhW, keeping membership lists up to date, sending out bulletins, attending road shows and recruitment drives, throughout Uttlesford.
All of the citations end:-
In recognition of the contribution that you have made as a member of Neighbourhood Watch
Clive Stewart
Chairman ECNHWA