Our very successful Annual General Meeting was held on Wednesday 10th July at The Highwood Village hall, Highwood Road ,Chelmsford.
There was a great attendance representing all of the Neighbourhood Watch Districts. Click here for notes from the meeting
After the Chairman's and Treasurer's report there was the Election of Officers for Essex County Neighbourhood Watch Association and Clive Stewart was re-elected as Chairman and Secretary, Roger Passfield as Vice Chairman and County Co-ordinator, Peter Salmon as Vice Chairman , Mike Hooper as Treasurer and Colin Freeman as Event Co--ordinator. These officials also have many other responsibilities which was detailed in the Chairman's report.
During the Chairman's report Clive Stewart advised everyone of our President, Geoff Ireland's birthday as he will be 92 on 29th July and a birthday card was signed by all those who attended to wish him well. ( He has since telephoned to say how much he appreciated the gesture)
Once the AGM was concluded Colin Freeman , Event Co-ordinator chaired the Conference and introduced guest speakers Jane Gardner, Deputy Police & Fire Commissioner, Moira Bruin Assistant Director Essex Fire & Rescue Service and Assistant Chief Constable Andy Prophet who presented the Awards for the Neighbourhood Watch member of the Year.
We all look forward to 2020 as this will be our 25th Anniversary and the date is Wednesday 8th July 2020 at the Highwood Village Hall again.
At every AGM and Conference, the districts each make an award in recognition of exceptional work by one of their members. Here are the citations and further photographs from the conference.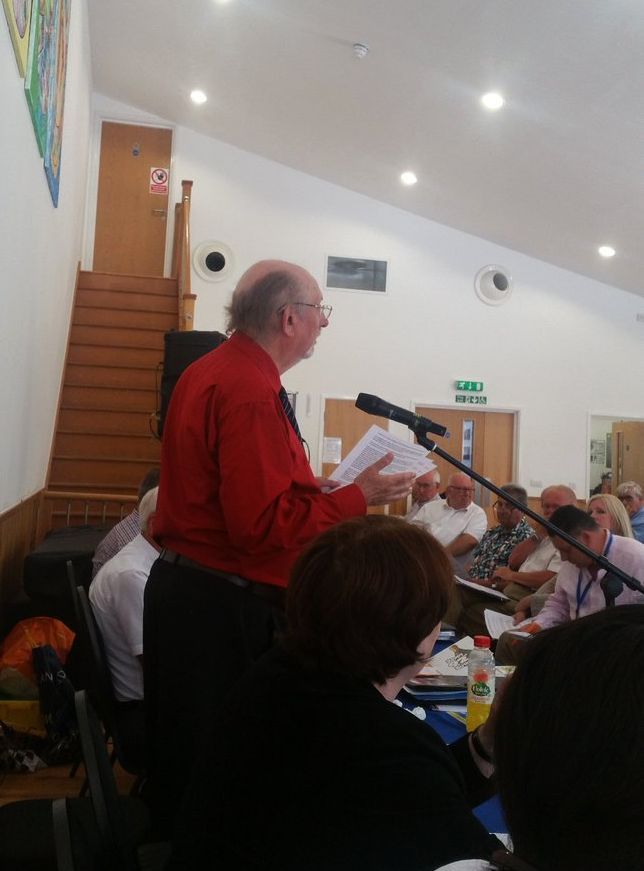 Our Chairman, Clive Stewart Addressed the meeting. Here is a summary of his speach:-
Firstly I would like to thank :-
Chief Constable Mr.B.J Harrington for his total support for Neighbourhood Watch and Assistant Chief Constable Andy Prophet.
Welcome again Mr.Prophet this is your third consecutive year with us - and we appreciate that commitment.
Welcome back too, and a very special thanks again, to Jane Gardner, Deputy Police Fire & Crime Commissioner, who has been tremendous in approving funds for the Essex County Members Guide as well as our Annual Grant and other District applications too.
Big NEWS: I can advise you that recently The Office of Police Fire & Crime Commissioners have given us extra funding for Neighbourhood Watch for 2019/2020 and therefore I have arranged for each District to receive an cheque today (from Mike Hooper) for £120 .
This year each District will have received £820, which is more than last year!
You may like to know therefore that in the past year The Office of Police Fire & Crime Commissioner has given to Neighbourhood Watch £20,000 which included the Annual Grant, a payment towards the cost of this AGM and Conference, the cost of the printing 38,000 Essex County Neighbourhood Watch Members Guides, and a payment to Thurrock and Epping Forest for street signs too.
Thank you to Darren Horsman, Assistant Director Communications & Public Engagements, The Office of Police Fire & Crime Commissioners for his support and attending our meetings to update us.
Welcome to Will Murphy , Senior Communications and Digital Manager, National Neighbourhood Watch. Over the past many months I have been in regular communications with Will and he has been brilliant.
Thanks to Jenny Brouard, Essex Police and all her team for working so well with us in the past year.
Also thanks to every Police Liaison Officer and all local Neighbourhood Policing Teams who keep us all updated each week with vital information for us to distribute.
We cannot forget Colin Dobinson, Crimestoppers for attending our meetings and keeping us aware of their activities.
Welcome to Moira Bruin, Area Manager Assistant Director, Prevention, Protection and Response Essex County Fire & Rescue Service. It is hoped that you will find us keen to always work with you to reduce the opportunity of crime and make our communities safer.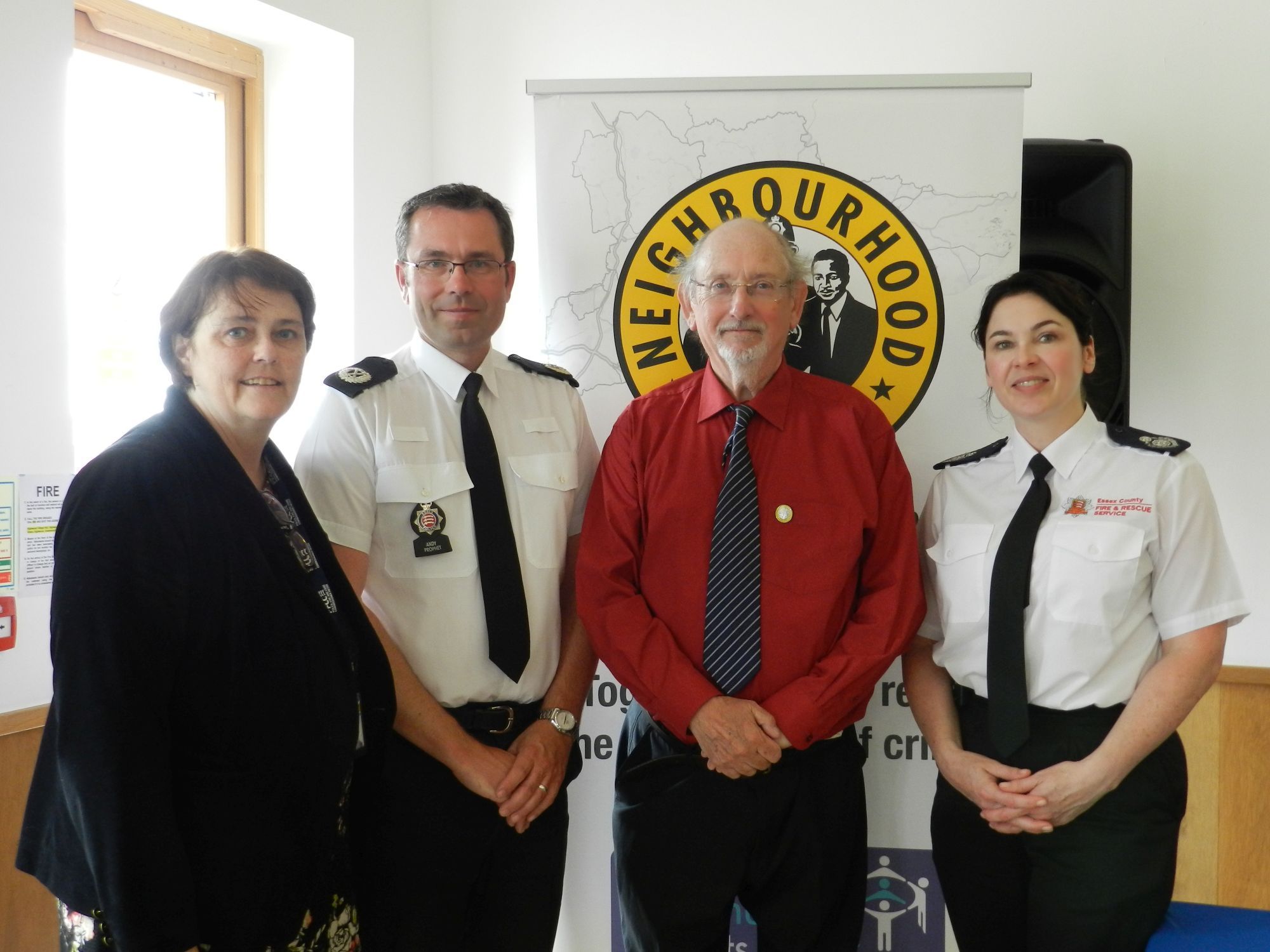 I must also say welcome to our exhibitors:- Crimestoppers, Trading Standards, Essex & Kent Police Cyber Crime Speedy Banners, Kempco Printers , Essex Fire & Rescue.
Please can you do your best to have a chat with them in our breaks today as I am sure the information will be of great interest and useful.
A special thanks to our Executives who have so many ECNWA "jobs" :-
Roger Passfield , Peter Salmon, Mike Hooper and Colin Freeman and we do appreciate his very famous Blogs.
Also thanks to Peter Fisk who manages our excellent website
John Metcalfe who audits our accounts.
May I also thank Tony Davis our photographer.
Finally thanks to each and everyone of you as District Co-ordinators , your Deputies , your Area Co-ordinators and your members for all your activities raising the profile of Neighbourhood Watch.
Working so well together does keep every community feel safer.
You are all tremendous doing what you can with the time you have.
This past year has certainly been busy and the time has flown by.
There were great highlights and actions and these are a few :-
Jane Gardner ,Deputy Police Fire & Crime Commissioner agreeing to fund the printing of 38,000 of our first Essex County Neighbourhood Watch Members Guides.
Each District received a minimum of 2,000 Members Guides to distribute to their members and I had created the email version too. The Members Guides have had many compliments, especially from Roger Hirst, The Police Fire & Crime Commissioner and Jane Gardner (Deputy PF&CC), Senior Essex Police Officers, National Neighbourhood Watch and many of our partners too.
I was also delighted with all those who supported the Guide by providing tremendous contributions.
I set a tight deadline on the completion of it ( from late November to mid December ) and this was achieved. Special thanks to Phil Stewart who designed the Members Guides for the printers at no cost to ourselves or The Office of Police Fire & Crime Commissioners.
We cannot forget the meeting with Essex Police Chief Constable Mr. B.J Harrington at Police Headquarters in January.
I would like to say how much "Visibility Policing" has been welcomed by everyone and we can see what a success it has achieved by all the activities of our Neighbourhood Policing teams of which we have been made aware of through all social media apps as well as normal media eg: television, local radio , and newspapers.- many thanks to Essex Police.
Later this year they will be advising us of their future plans of "Essex Community Messaging" system and in the meantime I would like you all to encourage your members to use many social Apps to receive up to date information from the local Neighbourhood Policing Teams including Facebook and Twitter - which even I have become a user!
In the past year I had meetings with Jane Gardner, to update her on our activities and how we use the funding we receive from them each year and this is the least we can do.
I attended Force Tasking meetings at Police Headquarters, and I am made very welcome.
Each Neighbourhood Watch District has had excellent working relationships with their local Neighbourhood Policing teams and do receive regular Partnership Documents advising local crimes and crime prevention information.
During the year I signed a Partnership Agreement with Essex Fire & Rescue Service-which is important as they are now involved with crime prevention advice.
National Neighbourhood Watch changed the wording in their welcoming email to "New registrations" and those who state they are involved with Neighbourhood Watch in Essex are told that they MUST contact The Chairman of ECNWA to have their Neighbourhood Watch membership approved.
However we are not seeing as many responses as expected but my access to the National Neighbourhood Watch database has enabled me to keep each District Co-ordinator aware of each new registration as a "member" of even a "Co-ordinator", so you can offer your support in setting up groups or just giving them your information .
I know many of you have told me how much you appreciate that information.
National Neighbourhood Watch sent us 20,000 Window stickers and each District received at least 1,000 – which was welcomed.
We also distributed 17,000 leaflets which reminded everyone how to lock their Upvc doors to accompany Essex Police operations to reduce dwelling house burglaries and we also distributed 2,000 No Cold Caller stickers.
Although I was interviewed by Dave Monk BBBC Radio Essex…. we should credit Steve Leverett ( Chelmsford) who was also on BBC Radio Essex on our behalf but at 07:00am on one morning … now that was dedication and many of us heard him on Iplay and he was brilliant!
Essex Police, local Community Safety Partnerships, Essex Association of Local Councils and many Essex District Councils have all given funds towards over 600 street signs which have been distributed by a number of District Co-ordinators throughout Essex.
In the last twelve months our membership has grown to over 122,450 as the Districts now include those who are on their Facebook Groups.
OUR OBJECTIVES FOR 2019/2020
Castlepoint District: I would like to thank Kevin Blake for all his help and support and we all must do what we can to help Roger Passfield , County Co-ordinator to arrange a Neighbourhood Watch meeting In Castlepoint and form a new Management Committee as soon as possible to find a new District Co-ordinator.
In the months ahead, our Executives and members of Essex County Neighbourhood Watch Association, need to always support each Neighbourhood Watch District to increase membership throughout the County.
To continue working with Essex Police and all our partners in whatever way we can to keep our communities safe.
A FEW LAST THOUGHTS
You may not believe this but in 2020 we shall be celebrating 25 years as Essex County Neighbourhood Watch Association and it would be great if we could plan something to recognise this great achievement.
Finally I need to you know that since the printing of my speech I have actually spoken to our President Geoff Ireland who was responsible for creating the Essex County Neighbourhood Watch Association all those years ago and Geoff has confirmed to me that 2020 is its 25th Anniversary of the Association. Despite having very poor eyesight he is a strong character as always. I was delighted to have the opportunity to chat to him.
He told me that on 29th July he is celebrating his 92nd. Birthday now I am going to ask each and everyone of you here today to help me wish Geoff all the best on his 92nd birthday by signing this birthday card …please can you write what you can where ever you can on the card……now he may not know you all of course……but he will very much appreciate your kind thoughts!
Well that's all I have to say at the moment but thank you all again for everything you do and all our partners who work with us to make our communities safer each day.