Objectives:-
The objective of Essex Neighbourhood Watch is to help to reduce crime and the fear of crime throughout Essex. We do this by giving out advice which we get from a variety of sources, by talking to people, by social media, posters, email and leaflets. We also try to be alert to neighbours who are in need of help and use our contacts who may be able to help. We are Registered Charity 1168988. We are all unpaid volunteers.
Organisation:
There are 14 Neighbourhood Watch districts in Essex :: Basildon, Braintree, Brentwood, Castlepoint, Chelmsford , Colchester, Epping Forest, Harlow, Maldon Rochford, Southend, Tendring, Thurrock and Uttlesford. Maldon is merged with Chelmsford for administrative purposes. They each have a co-ordinator who comes to meetings of the Essex Neighbourhood Watch Association
To find out more about any District, to find their contact details or to take part in our work, go to the Home page of this website and click on the name of the district where you live. Each District has web page has their contact details.
To help us all work together, we have Association Executives : Chairman, Vice Chairmen (2), Secretary ,Treasurer and Event Co-ordinator.
The Chairman can be contacted via this page.
Many of the Executives have specific responsibilities ie: the Chairman represents the Association in meetings with Essex Police, The Office of Police Fire & Crime Commissioner, Essex Fire & Rescue Services and National Neighbourhood Watch. The Vice Chairmen represents the Association at meetings of the Board of the Community Agents Essex, Crimestoppers and Victim Support. The list of all their responsibilities is available on request.
The Police support us through three Essex Watch Liaison Officers with advice, experience and lots of crime reduction advice images
The Association meetings are normally held at The Millennium Centre, Great Baddow on the second Tuesday in January, March, May , September and November. although this is subject to change due to the impact of Covid_19. The dates of all these meetings are shown on this website. After these meetings we organise a lunch to which everyone is welcome.
Every six months each District advises the Association Chairman/Secretary how many Co-ordinators and members they have and the total for Essex is updated to National Neighbourhood Watch on request.
In 2019 an Essex County Neighbourhood Watch Members Guide was created which includes articles from The Essex Police Fire & Crime Commissioner, Essex Police, Essex Fire & Rescue Services , Crimestoppers, Victim Support, Essex Community Agents and of course Essex County Neighbourhood Watch Association which includes the National Neighbourhood Watch Code of Ethics.
In 2020 special 25th Anniversary Essex County Neighbourhood Watch Association badges were presented to each of the District Co-ordinators , their Deputies and Area Co-ordinators.
Also a NEW large Members badge ( 4.5 cm) is available (FREE) to anyone involved with Neighbourhood Watch in Essex which confirms that they are formally part of Neighbourhood Watch. This Members badge is only available from Essex County Neighbourhood Watch Association and therefore cannot be obtained or purchased from any websites.
Neighbourhood Watch is a national movement with nearly 2.5 million members, where people come together to make their communities safer and stronger and encourage people to look out for each other. Because Neighbourhood Watch is a national movement, we have manged to arrange insurance cover for all members who have formally registered with their local co-ordinator, when they are on Neighbourhood Watch activities. The cover is quite comprehensive. Details are in our Filing Cabinet.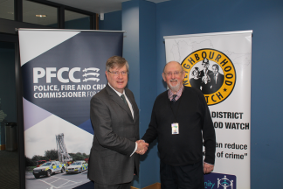 `
So that Essex Police, Essex Fire & Rescue , The Office of The Essex Police Fire & Crime Commissioner can (if appropriate) contact any specific Association District Co-ordinator they receive a detailed list of the names and contact details of the District Co-ordinators with also the numbers of their Neighbourhood Watch Co-ordinators and Neighbourhood Watch members in the Districts whenever there is a change in the District Co-ordinators.
Each year in April The Office of the Essex Police Fire & Crime Commissioners give a grant to Essex County Neighbourhood Watch Association which is fairly distributed to each of the fourteen Neighbourhood Watch Districts.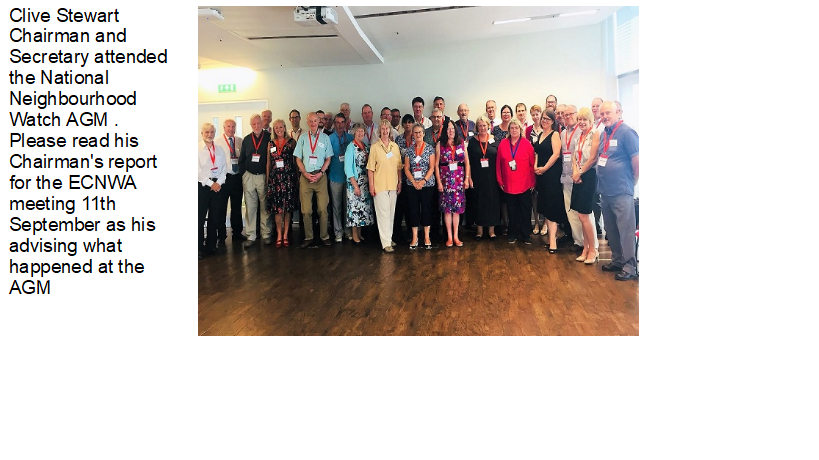 1Our Annual General Meeting and Conference is in July at Highwood Village Hall, Highwood Road , Chelmsford. The Agenda includes reports by the Chairman and Treasurer and the Election of Officers for the next twelve months.
Following the Annual General Meeting a buffet lunch is available before the Conference, organised by the Event Co-ordinator , with a number of guest speakers and then the Conference concludes with the presentations of Awards to the Neighbourhood Watch Members of the Year . The Nominations for these Awards are from each of the Districts and the Awards are decided by the Essex County Neighbourhood Watch Association Executives.