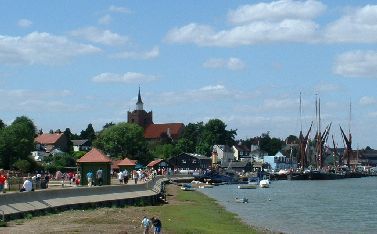 Our area covered is quite extensive as we cover from Maldon to Burnham-on-Crouch and the rest of the Dengie peninsular.
This has been an extremely difficult year for Maldon, to the extent that we are planning to merge with our neighbours at Chelmsford
We are now represented on the website: www.chelmsfordandmaldonnhw.org.uk
Alice Burlington our Community Liaison Officer from Maldon District Council left to work in London and there was a long delay in finding a replacement for her. During this time we saw a marked reduction in the numbers attending our meetings.
Then we received the awful news that Peter Revill our Treasurer and long standing member of NHW had been diagnosed with cancer. Peter lost his battle very quickly and NHW lost a true gentleman and stalwart supporter. We are so grateful for everything Peter did in running the stock for our events, attending every event he could and being a tremendous Treasurer.
Shortly afterwards Sian Bewick stood down as our Secretary and coordinator. Sian had managed a very busy village and she hasn't been replaced yet. Another long standing and very active coordinator Ken Harris from Burnham On Crouch also had to stand down due to ill health. A number of others also stood down due to their health issues. This left us without a Treasurer and Secretary. Despite repeated requests for someone to assist with these roles nobody volunteered. The affects of Covid then hit and we had meetings online. Unfortunately on average only three other coordinators were dialling in to these meetings despite being in Lockdown.
I have received tremendous support from Clive Stewart throughout and wish to record my gratitude for his help this year. Mark Howman (Southminster) and I persevered but we remained unconstitutional. We have always had a great working relationship with Steve Leverett, Chair of Chelmsford NHW and after much discussion we are to merge with them in line with the policing borough of Chelmsford and Maldon.
Unfortunately due to Covid there are some technical delays with the banking and transfer of monies but this is in hand. The coordinators of Maldon remain supported by Mark and I with signs, leaflets and stickers but this has definitely been a difficult year.
Mandy Chapman wrote the above when she was Chair of Maldon NHW
Mandy has now reduced her involvement due to other committments and is no longer the main contact.
The current temporary contact is Clive Stewart
email: [email protected]
Our district is always looking to increase the number of Watches , so if you are interested in becoming a co-ordinator or just an 'interested party', please contact us and we will get back to you.