Threats
Threats
Here are some of the latest reports of scams and other crimes sent to us by Police, National NHW or Trading Standards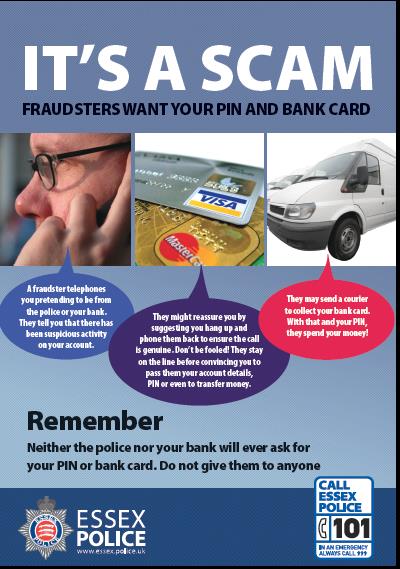 Many scams keep on appearing with slight modifications from time to time. Although some of those that follow have quite old dates when first in this list, you can be sure that they are still around! A particular example is fake bills and threats of bailiffs or debt collectors for non-existent debts
20th March 2018
Fake BT Bills
The latest variation on this theme sees fake but convincing BT bills arriving. Easy for anyone expecting a BT bill to be caught by these.

8th March 2018
Fake calls from ISPs
Another variation on the usual theme. This time the call is "from your ISP, telling you that someone has stolen your account details and is using your account illegally" Not clear what they try to get - maybe your broadband account details rather than banking info.

12th January 2018
Faked texts.
This is a new version of the faked call from a bank, but outstandingly convincing because the criminal sends you a text appearing to come from your bank's number. Therefore it is likely to be linked to an existing text from your bank in your text software and be so clearly recognisable as a text from your bank. This text is followed up by a 'phone call and another text about a security code. You are asked to read the security code to the caller and they then migrate your banking app to their 'phone and withdraw your cash.

14th November 2017
Job seekers are being targeted by fraudsters trying to obtain personal and banking details from them, or requesting money to secure accommodation. Individuals registering with job seeking websites or searching for jobs on The Student Room website are being contacted by bogus recruitment companies/businesses asking them to complete application and interview forms which request personal details and banking details, as well as copies of identity documents. In some instances the applicant is invited along for interview, either in person or over the phone, to make the process look as legitimate as possible. This is impacting on students and graduates looking for work both in the UK and overseas.

11th November 2017
Fake and premium rate numbers for the RSPCA
Anyone seeing animal cruelty and searching Google for the RSPCA's number is likely to get a premium rate number which racks up a heavy bill for the caller but then links on to the real RSPCA site so that the caller doesn't realise. The correct number to report 24-hour cruelty to the RSPCA is 0300 1234 999. The call will cost the same as any call to a UK landline number.
Fake Amazon Emails
Action Fraud has received several reports from victims who have been sent convincing looking emails claiming to be from Amazon. The spoofed emails from "[email protected]" claim recipients have made an order online and mimic an automatic customer email notification. The scam email claims recipients have ordered an expensive vintage chandelier. Other reported examples include: Bose stereos, iPhone's and luxury watches. The emails cleverly state that if recipients haven't authorised the transaction they can click on the help centre link to receive a full refund. The link leads to an authentic-looking website, which asks victims to confirm their name, address, and bank card information.
More details on the ActionFraud website
9th November 2016
Very convincing banking scam
This scam was reported in the Telegraph as being exceptionally convincing because it starts with a letter which looks as though it comes from Lloyds, reporting that there are dubious transactions on your account and asking you to phone to confirm them. You phone their number and are connected to an automated answering service that sounds a lot like Lloyds, This service asks for some details from your security number, then says it can't understand them and asks for some more, before passing you to a fake call centre operator who collects more account details as "security". The present telephone number has been disabled, but look for a similar scam reappearing elsewhere. Full details on http://www.telegraph.co.uk/personal-banking/savings/would-fall-latest-ingenious-bank-scam/
25th November 2016
"Do Not Call" scam
We have a report about a company high-pressure selling dubious gadgets that they claim will reduce the number of unwanted telephone calls you receive. There is a full report on the scam here.
15th November 2016
Scammers are sending out emails purportedly from Amazon saying there is a problem processing orders and that they won't be shipped. It adds that you won't be able to access your Amazon account or place any orders until you confirm certain information. Naturally, there's a link at the bottom of the page telling you to 'confirm' your account. It'll take you to a fake website which looks very similar to the real one – when you enter your personal details, they'll go straight to the scammers harvesting them.



6th May 2016
Pets for sale fraud
22nd April 2016
Lookalike Company Names and Websites - Clever and Convincing
A new investment fraud trend is targeting members of the public. It has widespread implications but currently is aimed at people who are seeking to sell their wine investment. Fraudsters agree to purchase the victimâ€â"¢s wine, but instead transfer the stock into their own account without paying the victim. The fraudulently obtained wine is then believed to be sold on to other, unsuspecting victims. How does it work? Fraudsters set up fake companies and websites as well as exploit the names of legitimate, established companies to facilitate this fraud. They cold-call the victims and offer to purchase their wine for significantly more than the actual market value. Fraudulent documents, such as purchase agreements, are used to facilitate the fraud and are sent to the victims via post and email. Some fraudsters have gone as far as setting up fake escrow services in order to fool the potential sellers that the payments have been transferred. The fraudsters send the victims instructions to transfer their wine into storage accounts held within legitimate bonded warehouses. The victims are informed that upon doing this they will be paid the agreed amount. The use of storage accounts held within legitimate bonded warehouses adds an air of legitimacy to the process but in actual fact these storage accounts are controlled by the fraudsters. Once the wine is transferred into the new storage accounts the suspects break off all contact with the victims. The wine is then moved again, normally within days and often abroad, and, needless to say, the victim never receives the money from the agreed sale.
12th April 2016
Bill Due Fraud
As mentioned in Crime Reports, anyone expecting an email bill from a local trader should check any such email very carefully before paying. Criminals have been sending invoices from fake, similar email addresses so that they can get the payment rather than the real trader.
28th January 2016
Customs Fraud
Anyone ordering goods from abroad should be aware of a report recently circulated on ECM. Fraudsters are sending out virus infected emails that claim a package has been seized by HM Revenue & Customs upon arrival into the United Kingdom.



18th January 2016
Virgin MediaFraud
We have received a report from a resident of an attempted email phishing scam supposedly from Virgin Media. The householder was asked to update their account details by following a link or their account would be closed. This is a variant of the scam where, if the link is followed and personal or banking information given there is a real risk of identity theft or financial loss.
6th January 2016
House Sale Bank Account Fraud
This is a new variant of an established fraud. Reported on TV and now in the Daily Mail, criminals can redirect the large cash funds being transferred to pay for a house. After finding a way to monitor the emails of an estate agent, the criminals send an email to the purchaser which appears to come from the solicitor or estate agent. The email states that their bank account number has changed, so when the purchaser sends the money to pay for the house, it goes straight to the criminal.
30 December 2015
Hearing Loss Compensation Claims
This one is aimed at businesses. The Daily Mail reports a large increase in efforts by dubious call centres to get businesses to pay compensation to people supposed to be ex-employees who have had their hearing supposedly damaged by workplace noise. Anyone hit by such a claim should first make sure that the claimant really was an employee and for which dates. ( Page 41 Daily Mail 30th December 2015)
18th October 2105
SIM Splitting
After buying some personal details, criminals can now not only steal your identity, but manage to get hold of bank details and the mobile 'phone number given to the bank to confirm certain transactions. This gives free access to the funds in the bank account in a way that is particularly hard to detect and stop until too late. This process is known as SIM splitting and further details are here.
18th September 2015
Fake messages from ActionFraud
Here is a link to the police's Actionfraud website reporting that fraudsters are sending messages which appear to come from ActionFraud yet install malware on the victim's computer.
17th September 2015
Ticketing/Event Scams
The police reported two of these around the time of the rugby World Cup, but they could emerge at any time where there is a shortage of tickets for a popular event.ActionFraud reported frauds involving lottery scams here.There are also further reports of ticket frauds. Advice about these is here.
20th October 2015
Fake Telephone Numbers
Fraudsters are using a scam to make the people they are phoning believe they are speaking to a trusted organisation by fooling their phones into displaying any number they choose.Full details can be found on the following link http://www.actionfraud.police.uk/news/alert-watch-out-for-new-number-spoofing-scam-oct14
20th October 2015
Buy Back Diamond Scam
This scam is a variation on courier scams. It is aimed at people who have invested in diamonds. Details are here.
20th October 2015
Pension Investment Scam
This scam is aimed at people with a pension pot to invest. It involves the sale of property in Cape Verde. Details are here.
20th October 2015
Unsecured or communal letter box theft of identity and money.
A criminal explains how easy it is to steal identity and bank cards given access to an unsecured or communal letter box. Police add advice on how to avoid this here.
20th October 2015
Council Tax Scam
This variation of the advance fee scam invites the victim to pay to have a request to get their council tax band lowered. Details are here.
16th September 2015
Bank message - your account compromised scam
Fraudsters are sending out text messages appearing to come from your bank and warning that they have detected that the account has been compromised. The message give a telephone number for the victim to contact urgently. If the victim does so they will be persuaded that they are talking to a bank official and will be tricked into giving account details.
11th September 2015
Court Appearance Scams
Fraudsters have been sending out legitimate looking spoofed emails designed to trick recipients into installing malware.
The emails say you have been notified and scheduled to appear for a court hearing, and contains specific dates, times, locations and reference numbers.It asks you to download a copy of the supposed Court notice attached. The messages may appear to come from ActionFraud. The downloadable.zip file actually contains an .exe file (a file that executes when clicked) containing a virus.
The email has no connection to the Criminal Justice System and anyone receiving the email should not download any attachments or click any links and report it to us by using Actionfraud's fraud reporting tool.
2nd September 2015
Parcel Forwarding Scams
People are being targeted to become Parcel Mules as part of a reshipping scam, which results in them handling stolen goods and losing out financially. Victims are predominantly recruited through job advertisements and dating websites. They are persuaded to have items delivered to their addresses, and to pay for postage before sending the items elsewhere. Victims are contacted through Freelancer websites and invited to become a Freight Forwarder as an employment opportunity. The work is advertised as processing packages and forwarding them to clients. The items being delivered have been purchased through fraudulent means, including the use of stolen/fraudulently obtained cards. The items being delivered are often pieces of electrical equipment or high value goods such as trainers, perfume and the latest phones. If you act as a Mule you are not only handling stolen goods, but also losing out financially. You will not get paid the promised salary and you pay for the postage and delivery of the packages personally. Additionally, you will have provided enough of your personal details to allow identity theft to occur.
24th August 2015
Messages appearing to come from ActionFraud
Criminals are now claiming to be from ActionFraud and trying to get personal information from their victims, pretending that they need this to help solve a crime.
20th July 2015.
Postal Scams
Nearly half of people in the UK have been targeted by a scam. The postal ones include the following:-Important Document / Clairvoyant Friend/ Cheque to Dispatch/ Payment Required/ Act Now/ Dear Winner One of the ways that scammers commonly contact people is through the post. As the techniques that scammers use get more sophisticated, it can be difficult to spot the difference between scam mail, junk mail and offers from legitimate companies. Most postal scams want your money but they may be harvesting personal details for identity theft. Letters may claim;You have won a lottery, sweepstake or competition. To claim the prize you have to pay an administration fee. You pay the fee & either get back nothing or get something worth less than the fee you have paid.
Money you have won is being held in a holding company... BUT YOU HAVE TO SEND MONEY to release it.
Somebody has left you an inheritance... BUT YOU HAVE TO SEND MONEY to find out who.
A clairvoyant can stop bad luck or direct good luck towards you... BUT YOU HAVE TO SEND MONEY
Debt Recovery Agencies: threatening court action if a BOGUS overdue utility bill isn't paid within 7 days.
Religious Scam: Criminals use religion as a way of deceiving victims, often claiming they are going to pray at Lourdes.
Charity Scam: Criminals send out 'begging' letters from fictitious charities. They often use distressing photos in an attempt to pull at the heart strings of caring people.
You can help protect yourself from postal scams by contacting the Mailing Preference Service (MPS) to have your name taken off mailing lists in the UK. This won't cover mail that is unaddressed or from overseas but will help.The MPS is free. Visit www.mpsonline or call 0845 703 4599.
Put a No Junk Mail sign on your door If you have received or are receiving something that looks like scam mail, don't respond to it, talk about it to someone you trust such as a friend, family member,Trading Standards or Citizens Advice bureau.
21st July.
Advance Fee Scams
The National Fraud Intelligence Bureau has been alerted to an Advanced Fee Scam whereby mainly persons of Asian descent are targeted by the suspects who cold call the victim, purporting to be from the Home Office UK Visa and Immigration department, and inform them that a case has been received by the department against the victim, sometimes with a request to deport. A request is then made for money to be paid mainly by Ukash vouchers or MoneyGram. Occasionally, money is requested to be paid into a bank account. Also on occasion, victims have been asked to provide bank account details. A telephone number is given which is a genuine contact number for the Home Office to give the call a form of legitimacy. The UK Visa and Immigration department would not make any request for payments in this form.
26 June
Apple Pay Scam
We have received a report that fraudulent vendors are using a fake Apple Pay website to collect cash from victims who attempt to buy products. A bit like the Paypal scam, the victim receives an email confirming that the payment has been received and in this case the goods are despatched. In fact the money has gone to the criminal and there is no redress via Apple Pay for the victim.
22 June
Shares Scam
We have received reports of a cold call from a very convincing individual who gives the name David Hoare. He has called people claiming to have obtained their details from British Gas and offering an opportunity to purchase shares that are guaranteed to realise an improbably high return for a relatively small investment. Anyone receiving such a call should terminate it immediately without entering into any conversation and then report the attempted deception to Action Fraud on 0300 123 2040
22 June
Royal Mail Email Scam
A scam email is currently being sent to victims fraudulently claiming to be from the Royal Mail. Attached to the email is the CryptoLocker virus. The victim receives an email purporting to be from the Royal Mail stating that they are holding a parcel/letter for the victim. The victim is then required to contact the Royal Mail to arrange for the item to be resent/collected.By following the instructions within the email the CryptoLocker virus is subsequently downloaded to the victims computer. This virus encrypts files on the victims system and requests a ransom be paid in order for the files to be decrypted. Additional incentive is added for early repayment as the ransomware states that the cost of decrypting the files will increase the longer the fine is outstanding. Protect yourself: Look at who the email is addressed to. Is it generic or specifically addressed?Look at the quality of the images included on the email. Are they of sufficient high quality that they could come from Royal Mail?Do not open attachments from unsolicited emails regardless of who they are from.Do not click on the link supplied. Instead, go to the relevant website and log in from there. Check the address of any email received to see if it appears legitimate. If you believe that you have been a victim of fraud you can report it online http://www.actionfraud.police.uk/report_fraud or by telephone 0300 123 2040
17 June
Flight Ticket Fraud
Alert People looking for cheap flight tickets are being targeted by fraudsters. New websites are continuously being created with slight changes to the company names with the intention to deceive the public. They offer tickets at bargain prices and usually request for payment via bank transfer. These tickets do not materialize and the funds are retained by the fraudsters.Protect yourself:Where possible, buy from well-known company names. If you've never heard of a company, conduct some due diligence. Use the internet. Type the name of the company/site you are buying from and look for reviews of what others customers are saying about the company. Bad customer service feedback usually finds their way online quite quickly. Use companies that are ATOL or ABTA Registered. You can check this here Check the authenticity of flight booking websites before making any reservations. A Whois search on the website will identify when the website has been created, so be wary of newly formed domains. This search can be conducted using http://who.is Never send money to bank accounts. If possible pay using a credit card as that way you have some protection and avenue for recompense. Sign up to Action Fraud Alert to keep you updated with what is going on. If you believe that you have been a victim of fraud you can report it online here or by telephone to 0300 123 2040.
2 June
Bailiff Scam
Action Fraud has seen an increase in the number of small to medium sized businesses being contacted by fake bailiffs requesting payments for a phantom debt. The scam involves the business being cold called from someone purporting they are bailiffs working on behalf of a court, attempting to recover funds for a non-existent debt. The caller will then request payment by means of bank transfer and if this is refused, will threaten to visit the premises to recover the debt that is owed. A range of different businesses are being targeted; including Nurseries, Manufacturers, Hotels and Taxi Services. Protect Yourself Confirm what the debt is regarding; bailiffs are only used to recover certain debts such as council tax, child support and compensation orders. Bailiffs are not used to recover debts relating to private advertisement; these would be collected by debt collectors. Debt collectors do not have the same legal powers as bailiffs and will not have special court authorisation to act. For more details regarding this, please look at the Citizens Advice website. Double check with the Court or originating company to confirm whether the suspects are legitimate; if you use a landline make sure you hear the dialling tone prior to dialling as the suspects could still be on the line.Request details of the debt in writing to access its legitimacy.Do not feel rushed or intimidated to make a decision based on a phone call.If you, or anyone you know, have been affected by this fraud or any other scam, report it to Action Fraud by calling 0300 123 2040 or visiting www.actionfraud.police.uk
21 May
Spoofed PayPal e-mails (from Action Fraud:)
Fraudsters often target Goods for Sale adverts on popular online auctions sites, so watch out whenever you are selling anything online. How does the fraudster operate?The fraudster will contact the seller to say that they want to buy the advertised item.The seller then receives what looks like a genuine PayPal email, to confirm that the money has been paid by the buyer into their account.With confirmation of payment, the seller will then send the item to the buyers address. The seller will later find that the PayPal email is fake and that the money has not been paid. The seller ends up losing out twice as not only do they not have the money, but they no longer have the item to sell.Protect yourself: Check your PayPal account to ensure that the money has been paid in and has cleared into your bank account before you send the item to the buyer. Do not be bullied or rushed into sending items before you know that the payment has cleared. A genuine purchaser will not mind waiting a day or two for you to send them their item. If you are selling a vehicle, think carefully when selling to overseas purchasers , especially if they tell you they will send an extra payment for shipping . Check that the funds have cleared before arranging this.
19th March
Door to Door Sales
Note that, as reported in the Uttlesford crime reports, no Door to Door sales permits have been issued in Essex lately. So any uninvited sales person at your door is very likely to be a criminal and details should be reported to police immediately.
(Click here for details of some older, but probably still relevant scams)